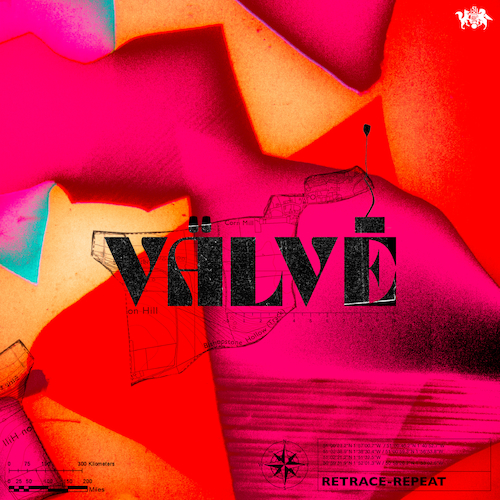 Retrace/Repeat
Available Formats
Tracks
Price
Buy
Download Single (

MP3

)
1 track

£

0.99

Download Single (

WAV

)
1 track

£

0.99

Download individual tracks
From £0.99
Description
VÄLVĒ - Retrace/Repeat
Retrace/Repeat is the first single from VÄLVĒ's upcoming debut album, Geography.
Chlöe Herington describes how the initial ideas for Geography grew out of physical separation between the ensemble over lockdown -
"Missing creating music together as VÄLVĒ, we set about remotely making individual tracks using environmental recordings from our scattered locations"
"We had a couple of tracks that we'd written in rehearsals and been playing live but not properly named or recorded yet. They were still evolving and changed a bit at each gig. With no gigs on the horizon, we set about recording parts for these remotely, fitting them together as they appeared in isolated form, remembering how they went live and reimagining structures, no longer constrained by practical things like channel limitations. As we started to make the album, the landscape started to reveal itself and the seven tracks examine the idea of our personal, current geography in different ways."
"Retrace/Repeat is based on my pathfinder map and the markings made of footpaths discovered then retraced over time as I tried to get my bearings […] It got me thinking about our geographies all being connected by these lines, the very lines that Emma and Elen were tapping into to create their garden-based tracks."
Geography
is due for release 13th December 2021 via The state51 Conspiracy.
VÄLVĒ started out as the outlet for former Chrome Hoof/Knifeworld performer Chlöe Herington's compositional work using text and image as the starting point for scores. She collects sounds and diagrams, composing predominantly for bassoon, saxes, electronics and found sounds to explore synaesthetic memory and collective experience.
The band has morphed - from what originated as a solo project, performing mainly in art galleries, it grew to include Elen Evans on harp. After moving from galleries back into music venues, they were recently joined by Chlöe's Chrome Hoof comrade, Emma Sullivan on bass, microkorg and vocals. Live, the music traverses the realms of noise and improv into songs, punctuated with found sounds and eases into spacey soundscapes.
Having previously released two EPs, The Theosophical Society and Cycles, the group return with Geography as their first full-length album.
The physical version of the album
will be the inaugural release in state51's '51 Editions' lathe series. Each record will be cut by Bladud Flies! and hand packaged in The state51 Atelier. The 51st edition is presented in a specially hand made box.
Artwork for Geography was developed by Louise Mason and was inspired by the OS pathfinder maps Chlöe used on her walks during the process of making the album. The geometric patterns that float by in the film map to the walking routes that Chlöe took as she got to know her new home.
VÄLVĒ
Instagram
Twitter
Facebook
Louise Mason
Instagram
The state51 Conspiracy
Instagram
Twitter
Facebook
YouTube