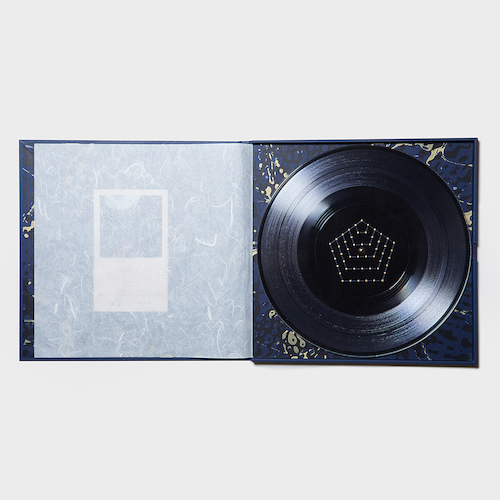 JK Flesh vs. Gnod
Available Formats
Tracks
Price
Buy
12" Vinyl EP (Ed. 1 to 50)
4 tracks

£

40.00

Out of stock

12" Vinyl EP (Edition 51)
4 tracks

£

100.00

Out of stock

Download EP (

MP3

)
4 tracks

£

3.96

Download EP (

WAV

)
4 tracks

£

3.96

Download individual tracks
From £0.99
Description
Gnod & JK Flesh - JK Flesh vs. Gnod
The state51 Conspiracy presents: JK Flesh vs. Gnod in 51 Editions
A limited edition of 51 lathe-cut 12" records, designed and assembled in the state51 Atelier.
Gnod are a psychedelic noise rock collective from Manchester, who since forming in 2006 and having an ever-shifting lineup of multi-instrumentalists, have gained a cult status in the underground noise world. Along with their roster, Gnod's music constantly evolves and morphs, and their output ranges from hallucinatory Krautrock-influenced folk to dubby, acid-drenched post-punk.
JK Flesh is the pseudonym of Godflesh lead Justin Broadrick. A mainstay in heavy electronic music, Justin has taken part in numerous groundbreaking, influential projects. He was an early member of grindcore originators Napalm Death, he co-founded industrial metal juggernaut Godflesh and produced industrial hip-hop with Kevin Martin (the Bug) as part of Techno Animal, Ice, and Curse of the Golden Vampire. His solo work as JK Flesh has a heavy focus on dislocated rhythms inspired by dub, garage and drum'n'bass.
Here, the two come together with interpretations of each others work.
Editions 1-50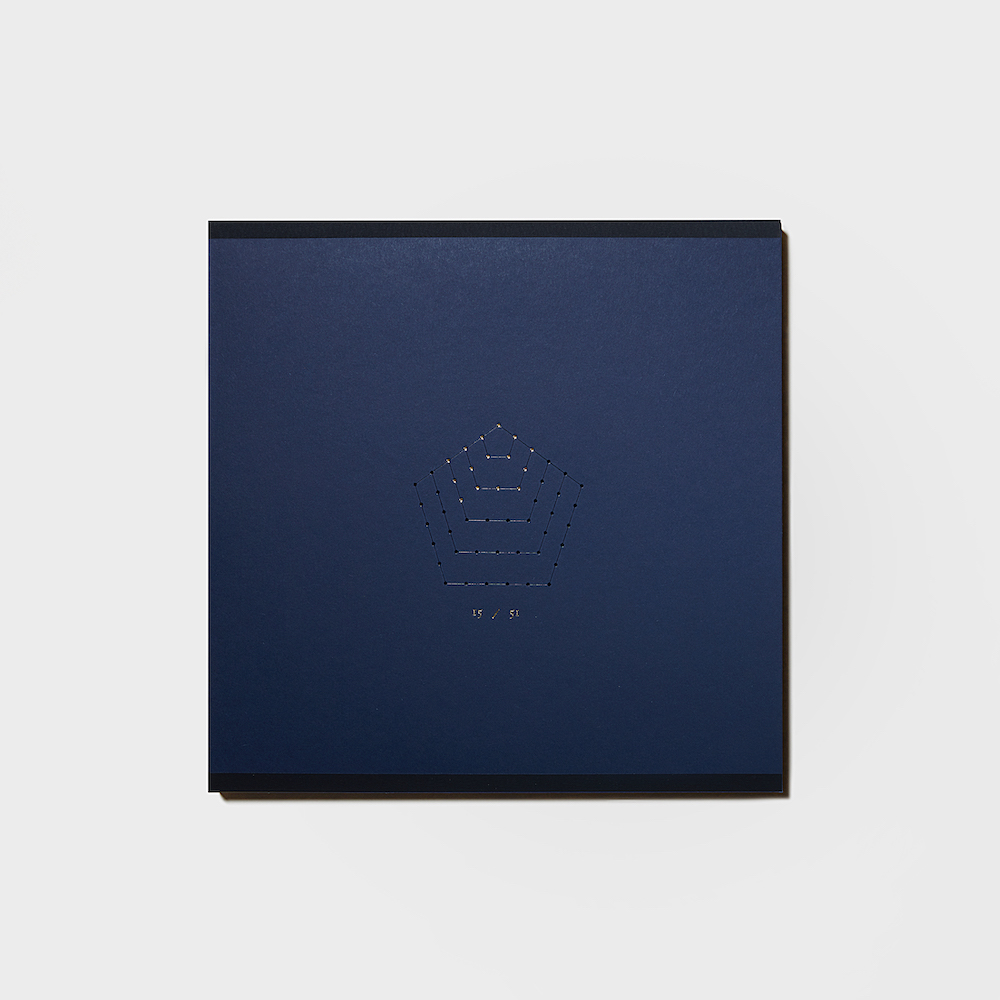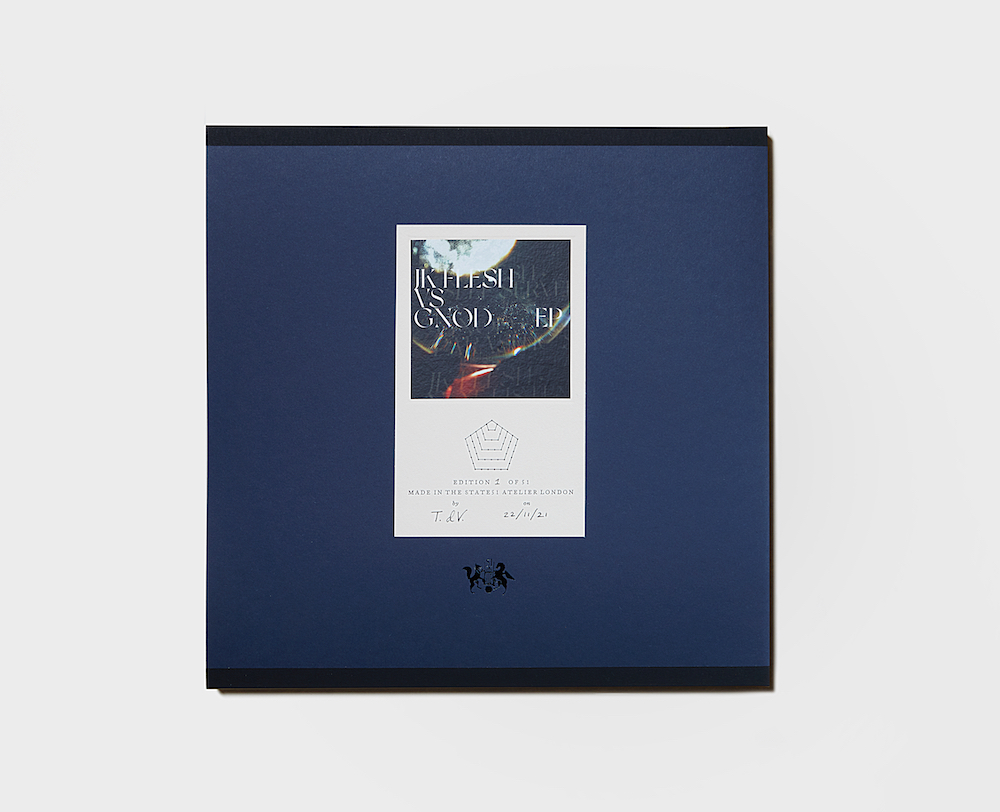 Editions 1-50 come in a hand made sleeve foil-stamped with the edition number and finished with book cloth taped edges and a letter-pressed plate featuring original artwork and maker information.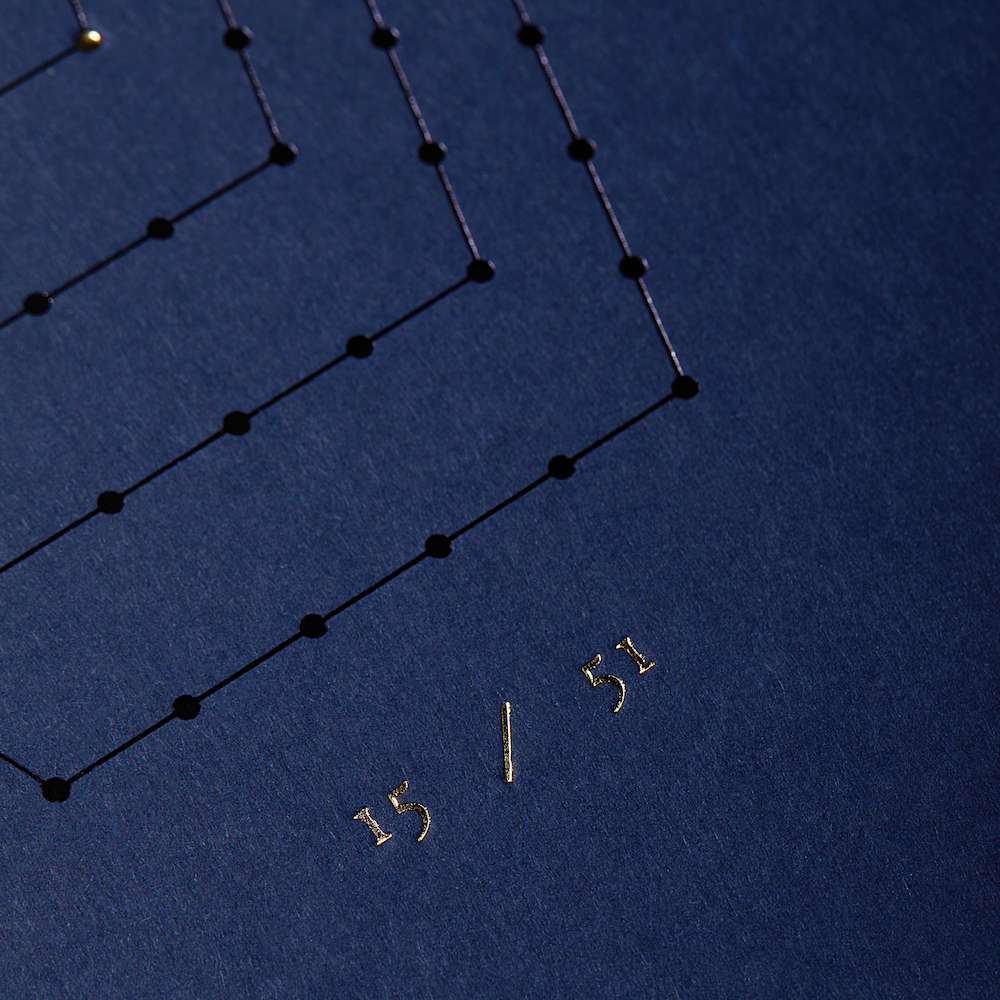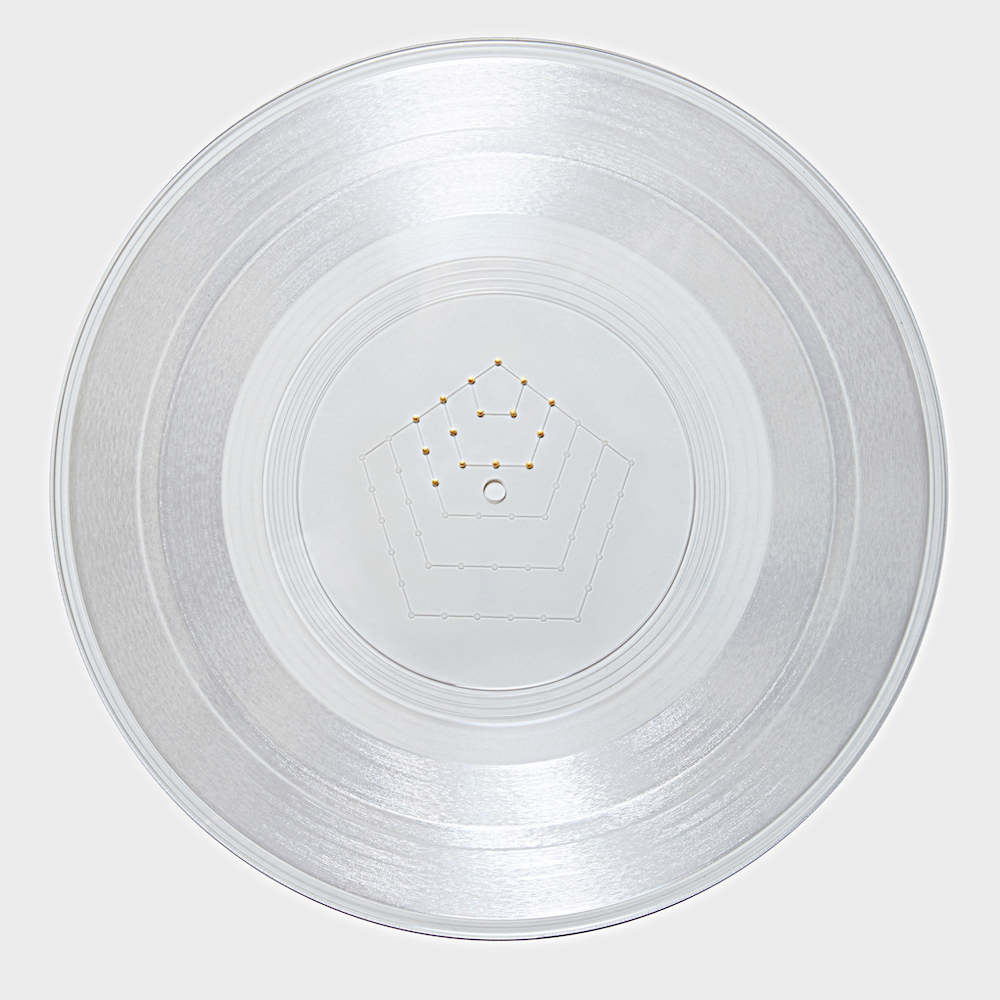 The record is cut on transparent vinyl and engraved with the 51 editions logo. It is hand painted with the edition number. Each features a full-colour printed 4 panel concertina insert displaying all the original artwork from the single releases, track list and credits.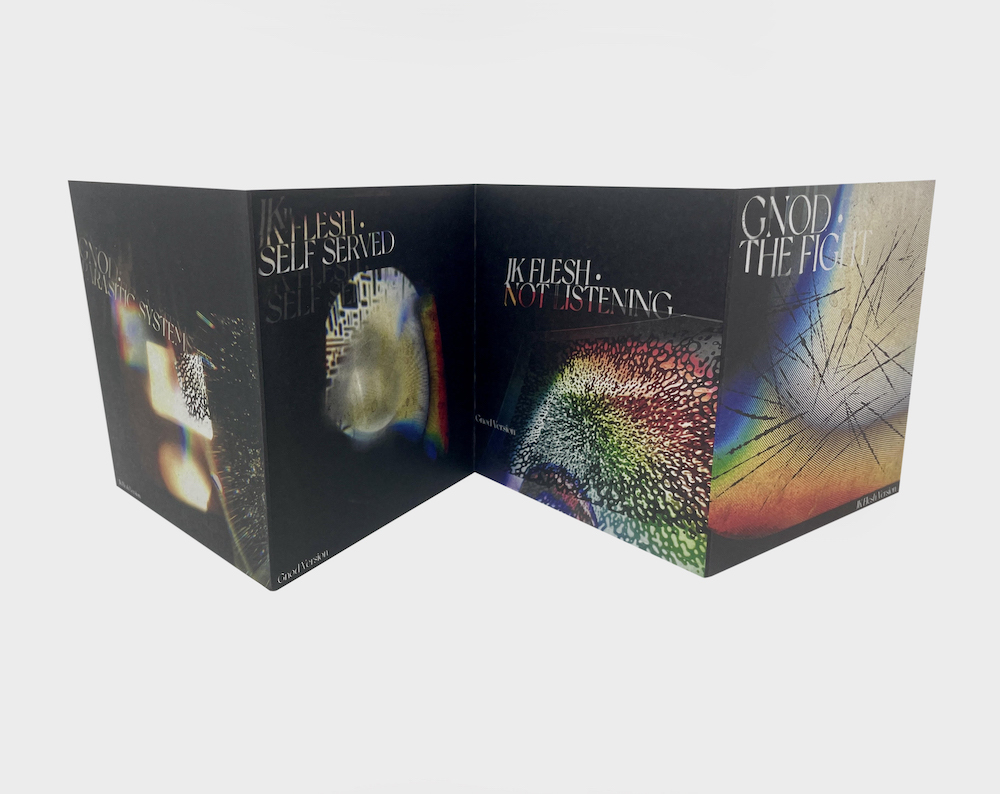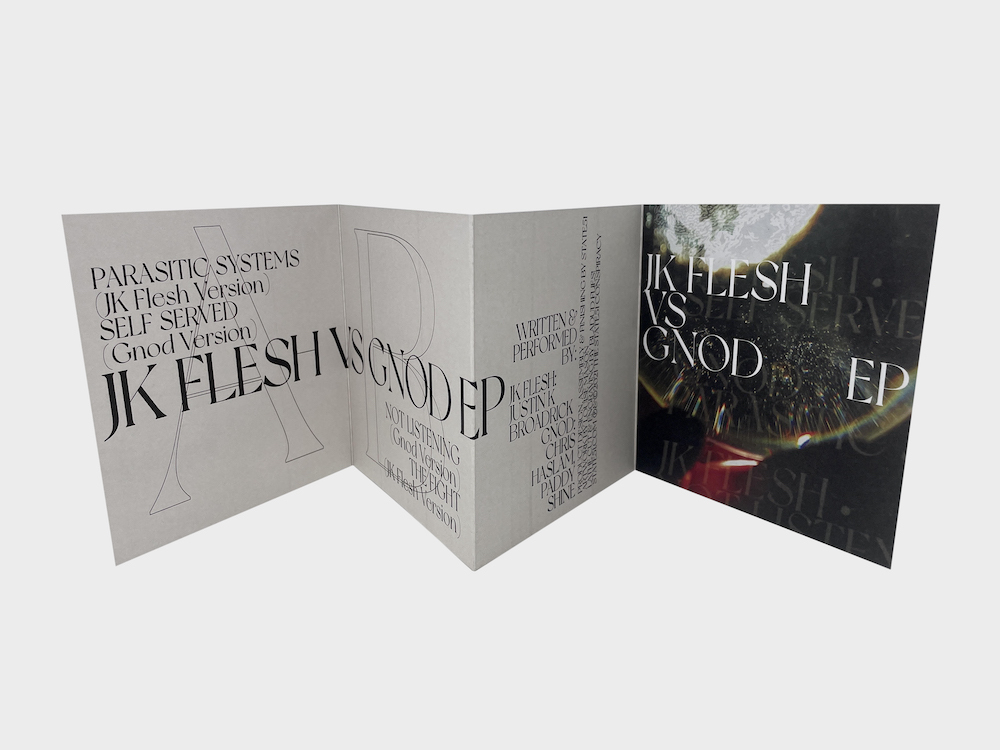 Edition 51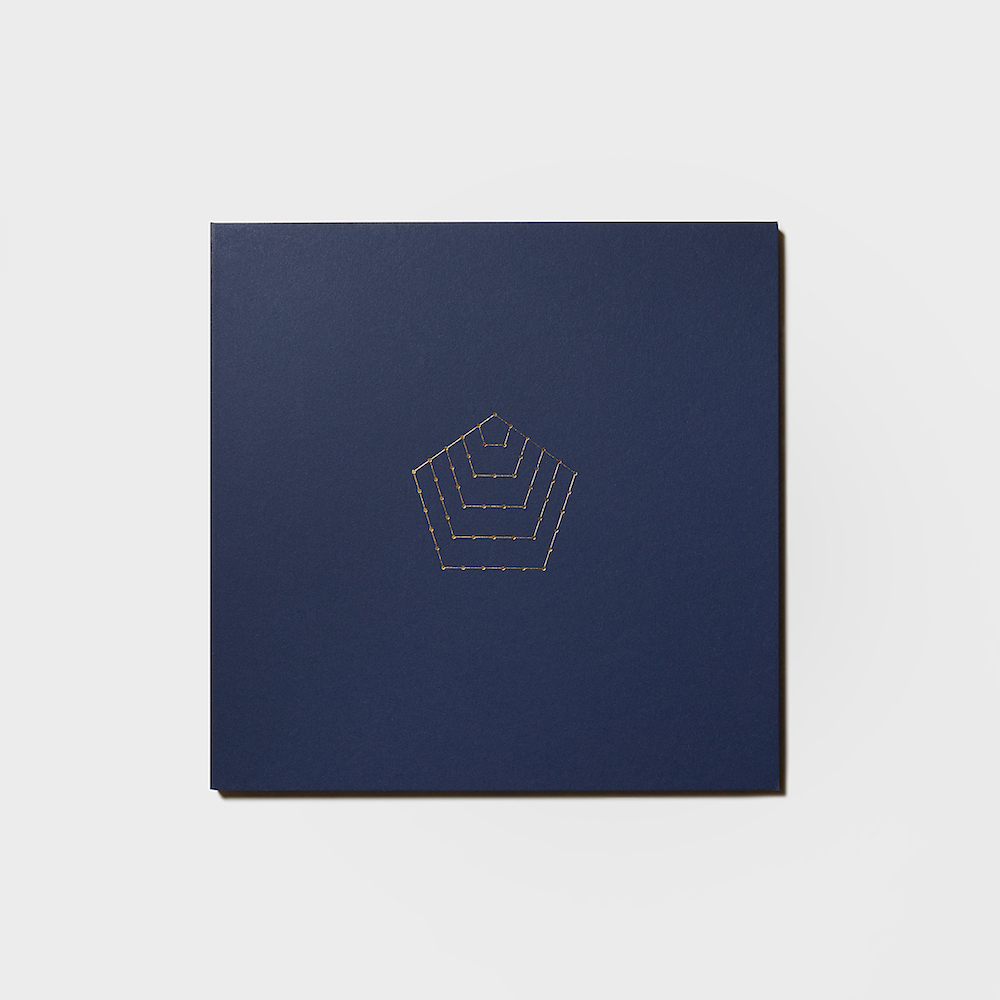 Edition 51 is presented in a specially designed box, foil-stamped with the logo.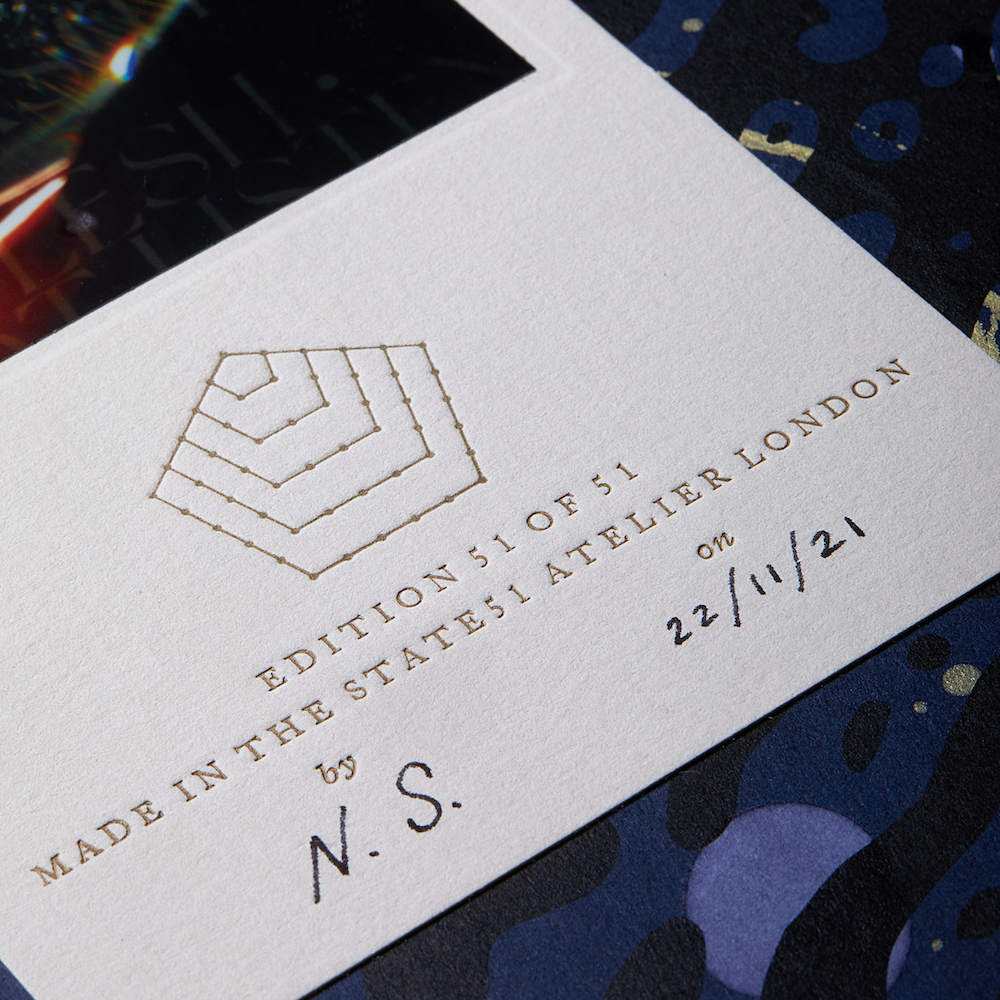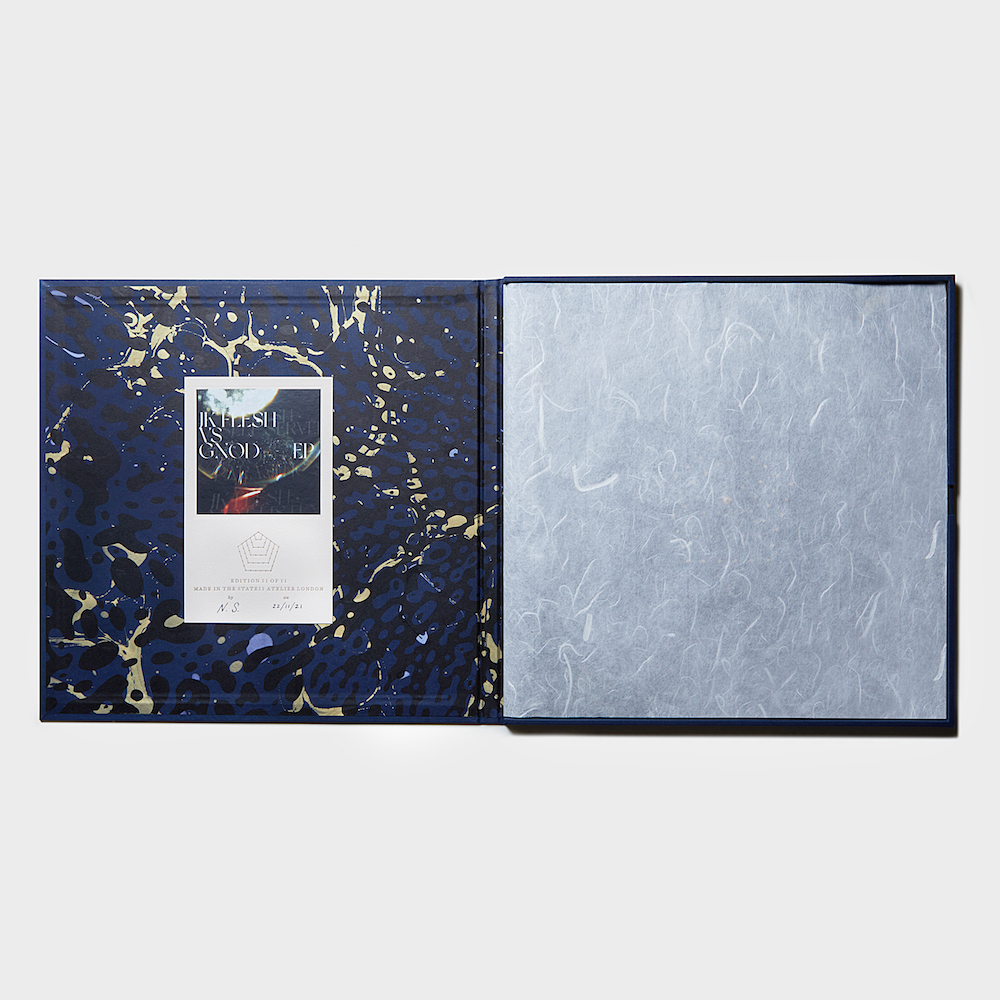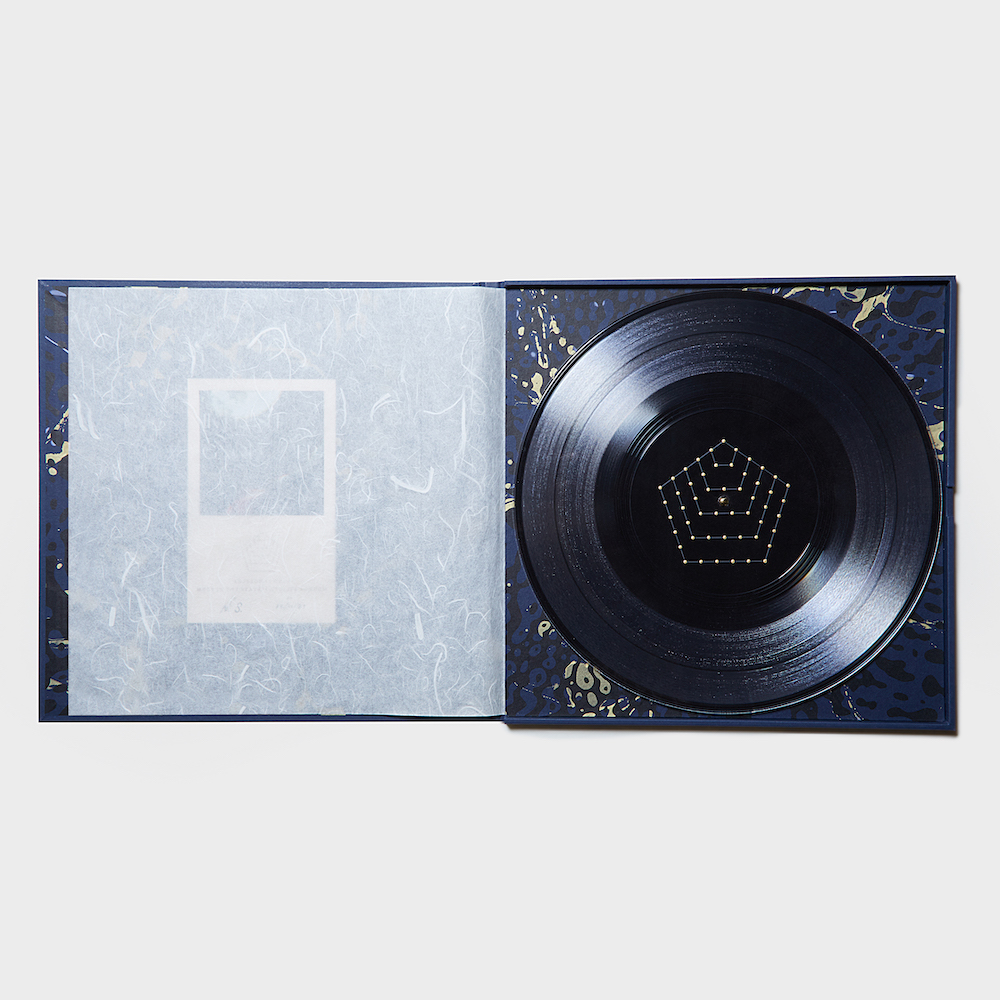 The interior is lined with hand-marbled end papers incorporating elements of the original artwork. The transparent vinyl record is hand finished, and protected by a heavy-weight hand stamped slip-matt underneath and a leaf of Japanese tissue paper protecting from dust on top. A single sheet of fine paper is included with track list and credit.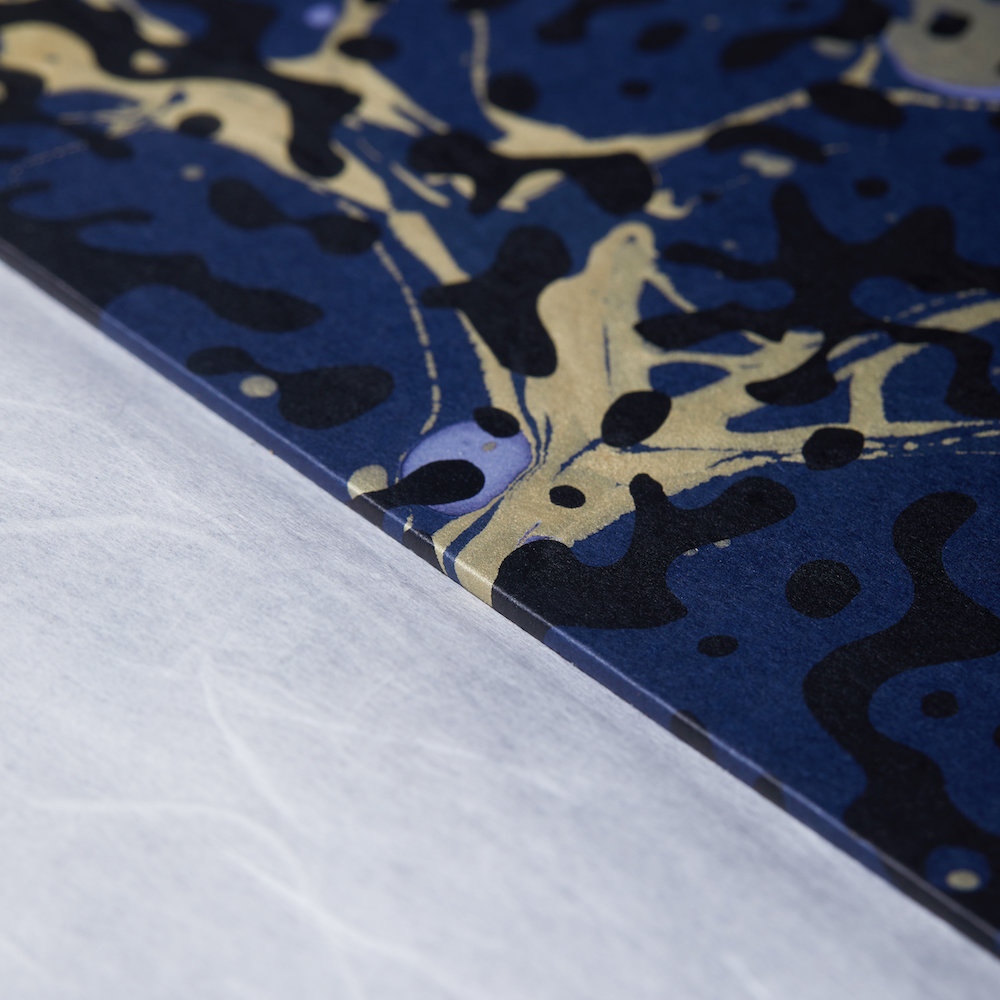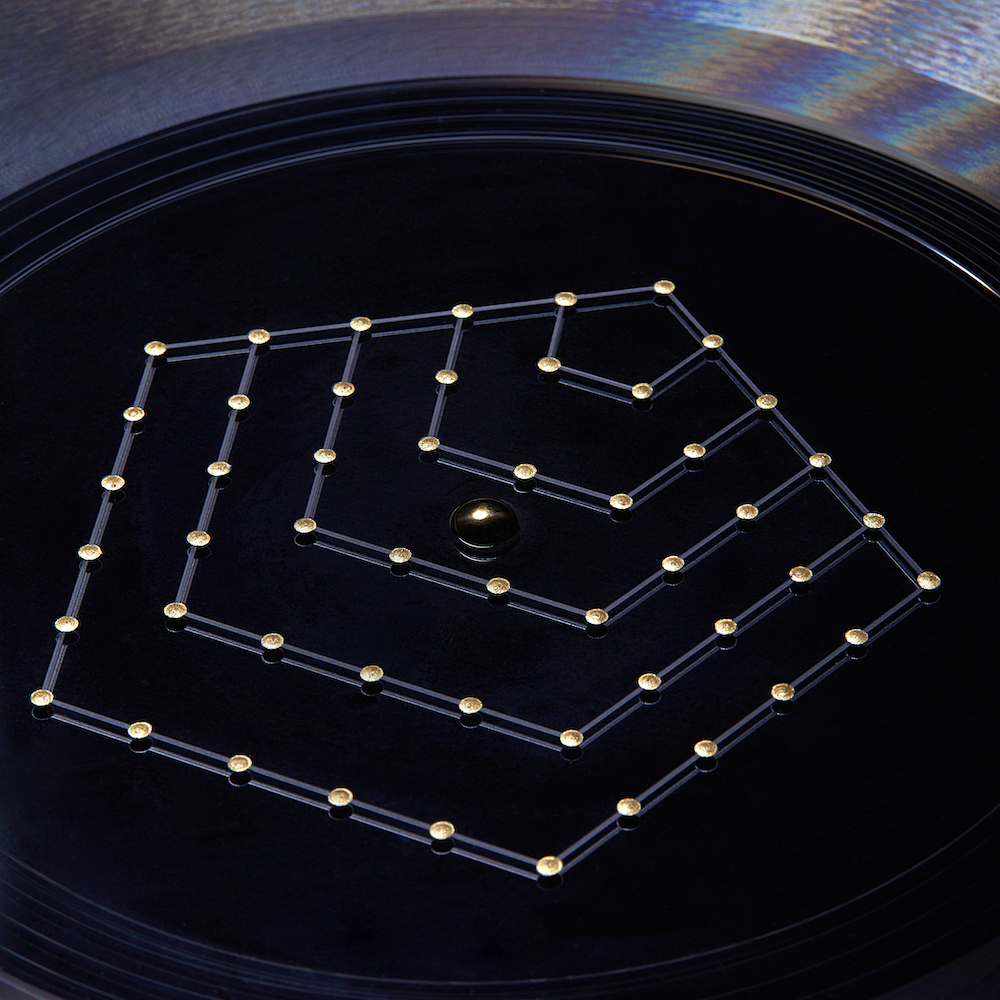 A free wav file download is triggered at point of sale.
Follow the artists:
Gnod
Twitter
JK Flesh
Instagram
Twitter
Facebook
Lathe cut by
Bladud Flies!
bladudflies.com
Film and Artwork by
Louise Mason
Instagram
Follow us:
The state51 Conspiracy
Instagram
Twitter
Facebook
YouTube
Reviews
"Quite simply delicious collab 12" that's been hand-cut! on a lathe! in very limited numbers! but might conceivably have been hewn from ice. Industrial rock pioneer Justin Broadrick, as JK Flesh, and the gnucleus of Gnod (Chris Haslam and Paddy Shine) bring out each other's good side by giving the other party two tracks each to remix. The results have Birmingham techno welly, dub apocalyptica, jungle basslines, percussive workouts that aren't much like what you'd expect from either party… a crucial crossover event and quite possibly a wee collectors' item too." - greedmag
Tracklisting
12" Vinyl EP (Ed. 1 to 50) (CONVEX5V)
Gnod

- Parasitic Systems (JK Flesh Version)

JK Flesh

- Self Served (Gnod Version)

JK Flesh

- Not Listening (Gnod Version)

Gnod

- The Fight (JK Flesh Version)
12" Vinyl EP (Edition 51) (CONVEX5V51)
Gnod

- Parasitic Systems (JK Flesh Version)

JK Flesh

- Self Served (Gnod Version)

JK Flesh

- Not Listening (Gnod Version)

Gnod

- The Fight (JK Flesh Version)
Download EP (CONVEX5)