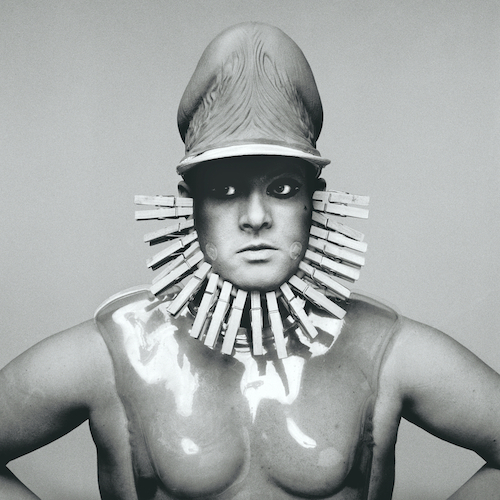 Useless Man (Signed Edition)
| Format | Price | Buy |
| --- | --- | --- |
| Useless Man (Signed Edition) | £25.00 | |
Description
Minty - Useless Man (Signed Edition)
Last few signed copies available, white vinyl. Cover photo of Leigh Bowery by Fergus Greer.



New Year's Eve 1994/5, the nightclubs, parties and discos of London froze in shock as news of the death of Leigh Bowery swept through the city and then the world. The legendary club freak, aesthete and iconic performance luminary had departed. However the flame of his artistry lives on, not only in his artistic and musical legacy, but in the continuing work of the remaining Minty band members with the reissue of their 1997 album 'Open Wide' on 3rd July and the legendary club track 'Useless Man' on 30th May - both released in a collaboration between original label Candy Records and The state51 Conspiracy. To mark 25 years since Leigh's passing Minty re-release the single with a new mix for a new world from Boy George and the long lost 'Original' Minty mix. Also a brand new anarchic animated video directed by Richard Torry and Mathew Glamorre themselves. 1992: Minty came together around Leigh to present 'actions' on the fringes of music, art, and politics and to explode (sometimes literally) in the face of the growing celebrity culture. The band represented those marginalised through sexuality and delighted to challenge all that which usurps the established order. Word of their live shows spread fast, Leigh was a mainstream figure back then and Minty were becoming notorious for what were considered outrageous and disgraceful performances. At a time just before the internet, scandalous talk and sensational press articles brought the band to the attention of the authorities. The UK's draconian, indecency and public licensing laws soon led to bans, legal action and police raids. Every show opened with 'Useless Man' - an amazing unapologetic, foul mouthed, pro-femme, pro-sex, pro- queer club anthem with lyrics made to shock and a playful homage to a Pepsi Cola ad byline from the 70's:

Bootlicking, piss drinking, finger frigging, tit tweaking
Love biting, arse licking, shit stabbing, motherfucking
Spunk loving, ball busting, cock sucking, fist fucking
Lip smacking, thirst quenching, cool living, ever giving
Useless Man

Not ones for subtlety, the live performances of the track added further blood and gore schlock horror to what was already a controversial song. Richard Torry says: "Leigh and I wanted to write an anthem for the Lesbians at Fist (a hardcore fetish club of the early 90s) - they were at the extreme edge of boundary breaking between sex and gender." Matthew Glamorre adds "We also needed a soundtrack to the 'birth' performance that opened the show so the song became a challenge to the feminist narrative that men were useless as they couldn't create life."
Bowery cut a huge figure in floral dress, face mask and wig heaved his way onstage and belted out the lyrics over a throbbing live rock band. He stomped and boomed across the stage never missing a beat. At the crescendo he hauled himself onto a table, laid back and 'gave birth' to Nicola. A full-grown woman emerged who had been harnessed beneath his dress for the duration of that explosive performance. It was filth, blood, gore and the artistic manipulation of flesh for which Bowery was renowned. Boy George, who had seen it many times, said that it "never ceased to impress or revolt"; And so the track and performance
entered into the world of cultural legend.

Over the last 25 years 'Useless Man' became part of the soundtrack to the underground music and art scene. The Grid mix continues to be played on indie/ alt/ queer dancefloors throughout the world.