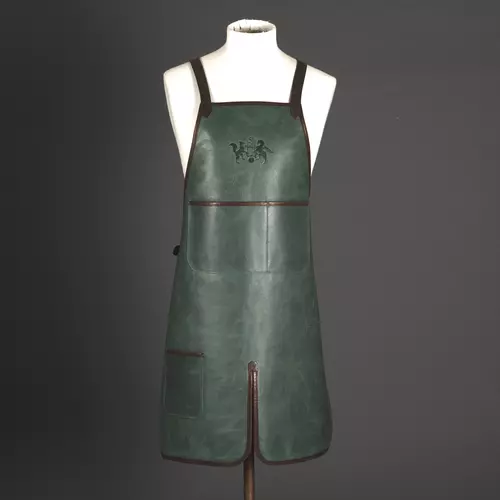 Leather Crafts Apron
| Format | Price | Buy |
| --- | --- | --- |
| Craftsman's Leather Apron | £280.00 | |
Sorry, Leather Crafts Apron is out of stock.
Description
Leather Crafts Apron
These beautiful leather aprons are hand made in the state51 Atelier to a unique design using the best materials and craft, and will last a lifetime.
Design
The front split is something generally seen in potteries, as potters sit down to work. It makes the apron easier to use and more comfortable.
The green colour of the leather is reminiscent of traditional industry, for example old cast iron machinery, factory floors and overalls would often have been finished in the same colour.
The small pocket at the bottom of the apron is a reference to the rule pocket, a wider version of the narrow pocket on one side of old work trousers used for holding a folding rule.
Elements taken from the English tradition of saddlery and harness making are used throughout the design, hence the use of dark brown leather for the straps, copper rivets, and brass studs which are all part of traditional harnesses. The binding on the edges is decorative and also gives strength and durability to the edge.
Materials
The best materials were used.
The leather was designed by a specialist wholesaler in Northampton, UK, to give a vintage feel. It is water buffalo from Nepal, tanned using older and less current processes to create a leather reminiscent of the past.
The leather for the straps is from Italy. The leather is vegetable tanned which is a much slower and superior process to chrome tanning which is how 90% of the leather you see today is made. This is leather usually used for horse bridles. It is strong, durable and handsome.
The thread is the highest quality French linen thread used by the great fashion houses for their best quality leather bags.
The hardware comes from one of the last remaining hardware foundries in England, and is made of solid brass. The rivets are solid copper, similar in look and feel to jeans rivets. When jeans were first developed as durable workwear they had real copper rivets reinforcing the seams, now they have tubular rivets made to look like copper rivets. Copper rivets are much harder to set and are practically unbreakable.