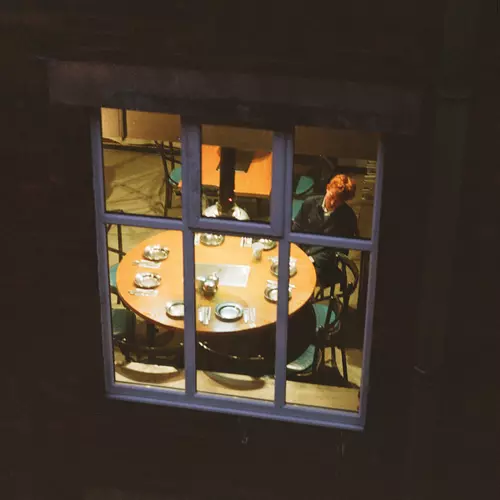 Bats Feet For A Widow
Available Formats
Tracks
Price
Buy
12" Vinyl Album (Black Vinyl)
9 tracks

£

23.00

Available

16 February 2024

12" Vinyl Album (Bats Feet For A Widow 51 Edition)
9 tracks

£

51.00

Available

16 February 2024

12" Vinyl Album (Turquoise Vinyl)
9 tracks

£

27.00

Available

16 February 2024
More information about preorder releases
Description
Bingo Fury - Bats Feet For A Widow
Bingo Fury's noirish, furiously inventive music – marrying Scott Walker-esque balladry, poised jazz and agitated no-wave – has marked him amongst the UK avant-garde's most exciting young voices. The multi-instrumentalist and madcap producer's debut album Bats Feet For A Widow arrives February 16th via The state51 Conspiracy.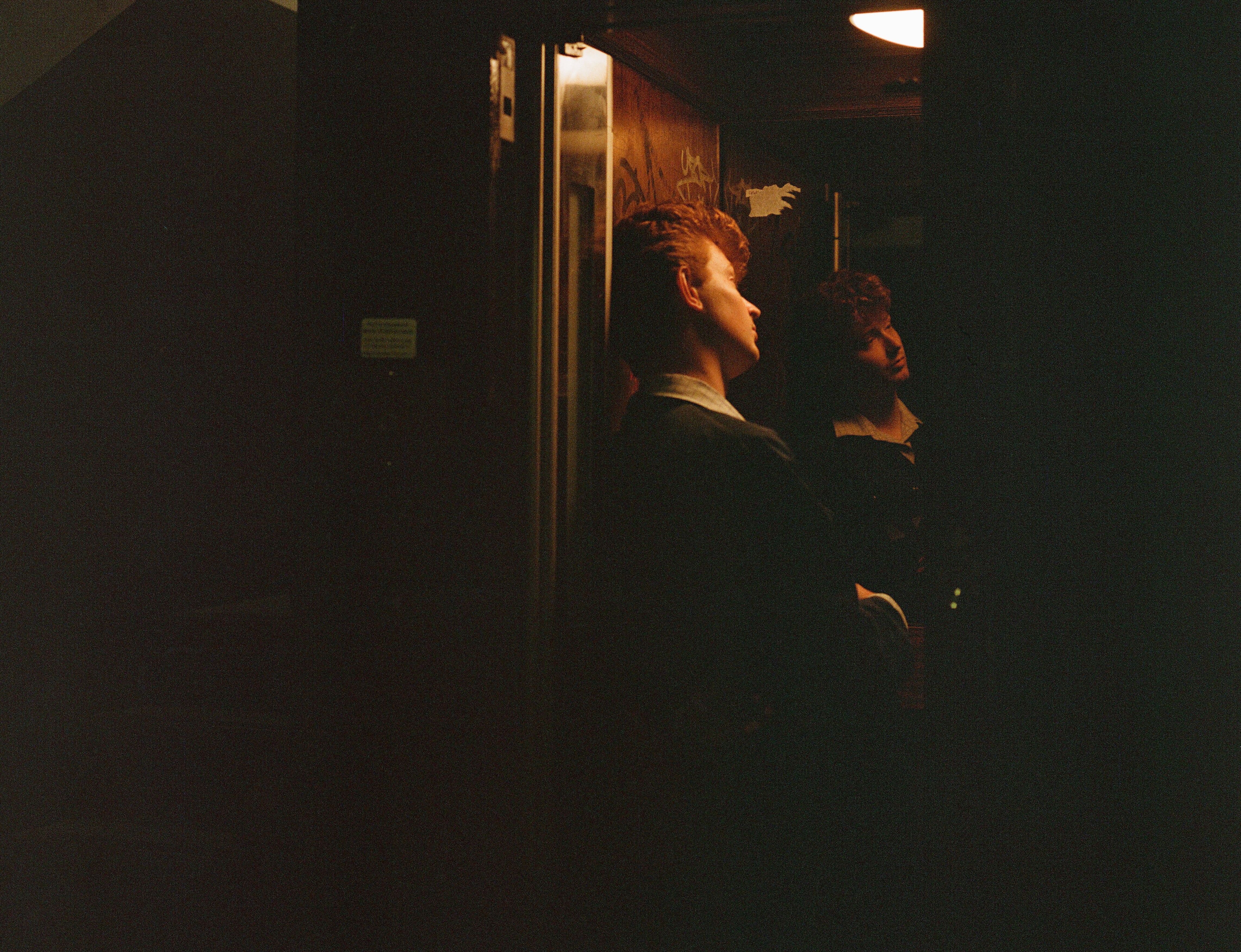 ~ First 51 preorders will receive an exclusive photo print ~
Black Edition
+ Black 180g 12" vinyl
+ Lyric sheets
Turquoise Edition
+ Turquoise 180g 12" vinyl
+ Lyric sheets
51 Edition
Limited to 51 copies only - final design of the zine, score and pack of cards TBA
+ Turquoise 180g 12" vinyl
+ Lyric sheets
+ Bristol soundwalk zine
+ 'Centrefold' piano & vocal score
+ Customised Bingo Fury pack of cards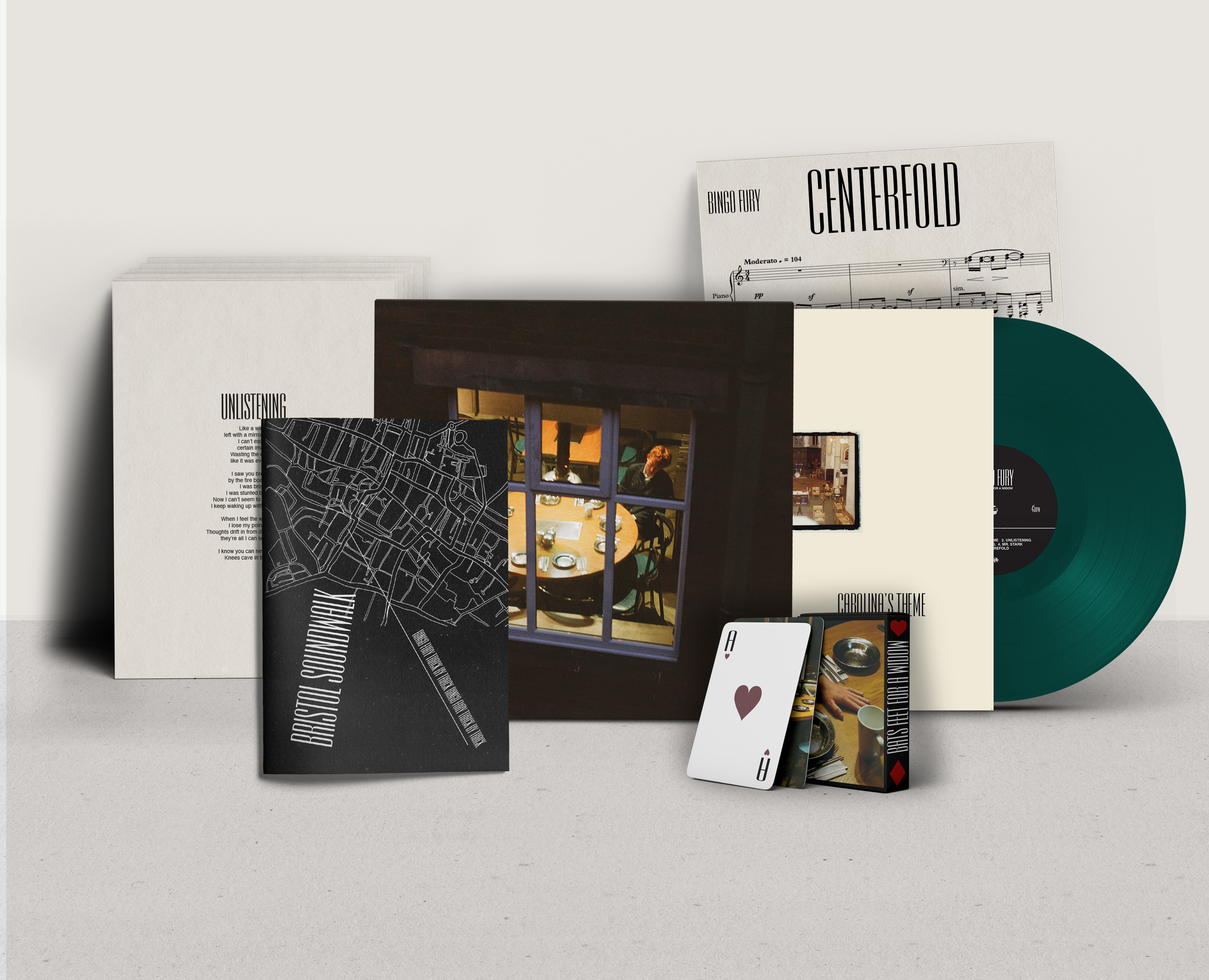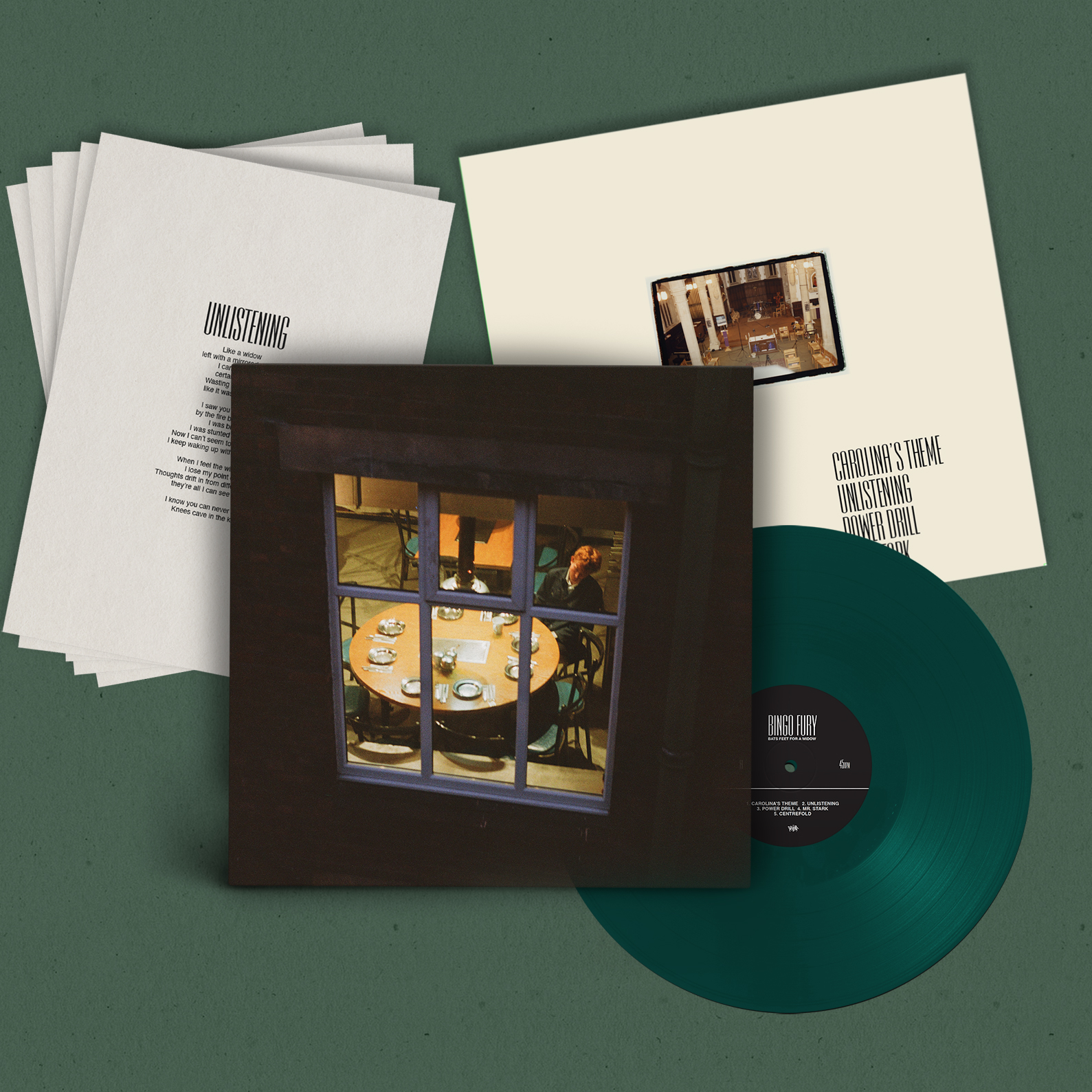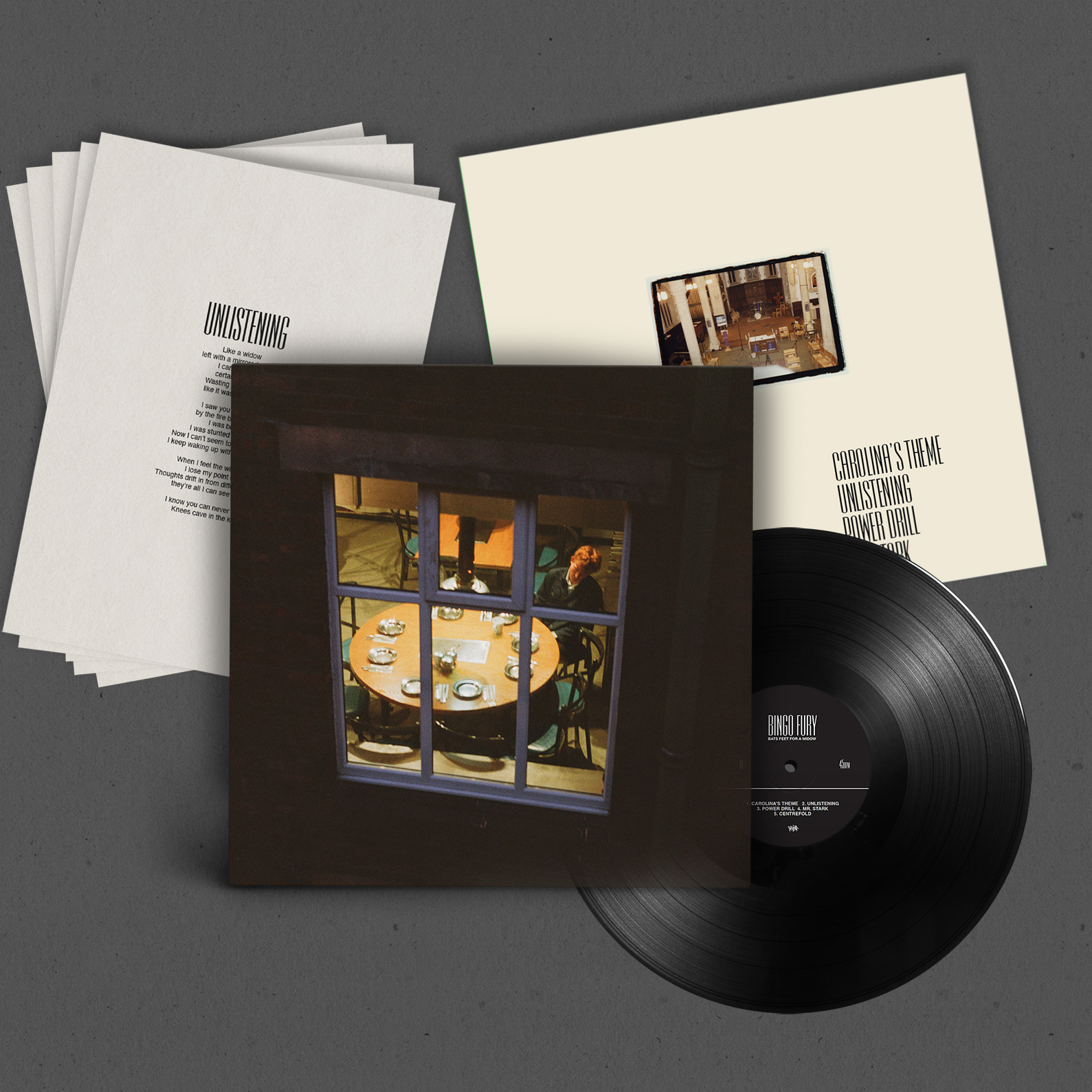 Bats Feet For A Widow
was recorded in a local church in Bristol, inspired by Fury's tangled feelings towards his strong religious upbringing. We hear the old building everywhere, amidst the rich jazz performances of his band:
Meg Jenkins
(bass),
Henry Terrett
(drums),
Harry Furniss
(cornet) and
Rafi Cohen
(guitar, glockenspiel, piano). We also hear tossed house keys, wine glasses and strange acousmatic experiments: all channelled into a powerfully cinematic, deeply romantic album. At its heart is Fury's crooning bass vocal, lending a vivid and slyly humorous voice to universal themes of love and pain.
Bingo Fury burst onto the UK scene in 2021 with the debut single
Big Rain
, assembling his band from friends in Bristol's rich experimental scene. Initially a grittier no-wave project, their magnetic, electrifying live shows led to early sets at End Of The Road and Green Man, as well as support slots with
Lee Ronaldo
and the godfather of no-wave himself:
James Chance
. By the release of Fury's 2022 debut EP
Mercy's Cut
, he had earned acclaim from tastemakers at BBC 6Music, The Quietus, NME, Loud And Quiet and more.
Bats Feet For A Widow
marks a shift into more melodic territory. "I was bored of experimental music just being dissonant or atonal – a lot of the people I was influenced by really challenged me but also had a euphoric atmosphere to their output," he explains. Citing
Laurie Anderson
,
Robert Wyatt
and
Silver Jews
as influences, the album is rooted in lush, piano-led balladry, but ricochets between punk, lounge pop and Reichian minimalism.
Recording took place in Cotham Parish Church on the outskirts of Bristol: never previously used for recording music. Joined by
Rockfield
engineer
Joe Jones
, Fury and his band filled the church with equipment and worked there for eight days. "My main creative fuel is limitation," Fury says of the decision to not use a studio: "in the process of working out a problem, you end up with something more interesting." The decision to use a church specifically was drawn from his religious childhood. "I had a lot of very confusing experiences within the church growing up – recording in a church made the whole thing more intense, and amplified the discomfort of those experiences I was writing about." This extended to his band. "A lot of people that are atheist will go into a church and experience a different kind of discomfort: 'am I really meant to be here?' That's the side of production I find interesting – how you can get something different out of someone through the situation you've placed them in."
Bats Feet For A Widow
is an album of extremity. In all respects – its sonic palette, strange experiments, obscure references, offbeat one-liners, heart-breaking sentimentality and surging creativity – it is astonishingly full. Fury duly ends it on a note of maximalism:
"you know I'm trying to give you everything / It all gets in the way."
LIVE DATES
12th March 2024 - Dead Wax, Birmingham (supporting Folly Group)
13th March 2024 - Arts Club, Liverpool (supporting Folly Group)
14th March 2024 - Yes (Pink Room), Manchester (supporting Folly Group)
15th March 2024 - Belgrave Music Hall, Leeds (supporting Folly Group)
11th April 2024 - Neu Waves @ The Loft, Portsmouth
16th April 2024 - The Hope & Ruin, Brighton
17th April 2024 - Whereelse?, Margate
18th April 2024 - Folklore, London -
TICKETS
19th April 2024 - Esquires, Bedford
20th April 2023 - The Jam Jar, Bristol -
TICKETS
Bingo Fury
Instagram
Twitter
Facebook
YouTube
The state51 Conspiracy
Instagram
Twitter
Facebook
YouTube
Tracklisting
12" Vinyl Album (Black Vinyl) (CON949LP)
Carolina's Theme

Unlistening

Power Drill

Mr. Stark

Centrefold

Never Gonne Be A Dead Man

I'll Be Mountains

My Cup Overflows

Leather Sky
12" Vinyl Album (Bats Feet For A Widow 51 Edition) (CON949LPX)
Carolina's Theme

Unlistening

Power Drill

Mr. Stark

Centrefold

Never Gonne Be A Dead Man

I'll Be Mountains

My Cup Overflows

Leather Sky
12" Vinyl Album (Turquoise Vinyl) (CON949LPG)
Carolina's Theme

Unlistening

Power Drill

Mr. Stark

Centrefold

Never Gonne Be A Dead Man

I'll Be Mountains

My Cup Overflows

Leather Sky