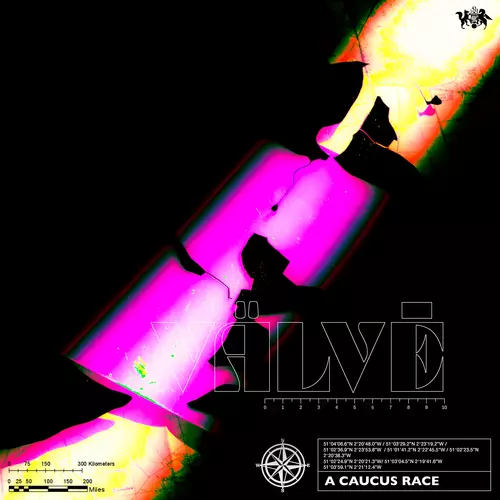 The Caucus Race
Available Formats
Tracks
Price
Buy
Download Single (

MP3

)
1 track

£

0.99

Download Single (

WAV

)
1 track

£

0.99

Download individual tracks
From £0.99
Description
VÄLVĒ - The Caucus Race
"We imagine geographies from stories. 'Alice in Wonderland' is one such story that played a huge role in many a childhood. I loved imagining maps of the places Alice explored, hearing the story both by book and by Patricia Hodge's reading on the Storyteller tapes. Although arriving in a 'wonderland' via a rabbit hole and having a Caucus Race remains way too Dada to leave the imagination!"
- Chlöe Herington of VÄLVĒ
Artwork for 'Geography' was developed by Louise Mason with state51 and was inspired by the OS pathfinder maps Chlöe used on her walks during the process of making the album. The geometric patterns that float by in the film map to the walking routes that Chlöe took as she got to know her new home.
VÄLVĒ started out as the outlet for former Chrome Hoof/Knifeworld performer Chlöe Herington's compositional work using text and image as the starting point for scores. She collects sounds and diagrams, composing predominantly for bassoon, saxes, electronics and found sounds to explore synaesthetic memory and collective experience.
The band has morphed - from what originated as a solo project, performing mainly in art galleries, it grew to include Elen Evans on harp. After moving from galleries back into music venues, they were recently joined by Chlöe's Chrome Hoof comrade, Emma Sullivan on bass, microkorg and vocals. Live, the music traverses the realms of noise and improv into songs, punctuated with found sounds and eases into spacey soundscapes.
Having previously released two EPs, The Theosophical Society and Cycles, the group return with Geography as their first full-length album.
VÄLVĒ
Instagram
Twitter
Facebook
Louise Mason
Instagram
The state51 Conspiracy
Instagram
Twitter
Facebook
YouTube