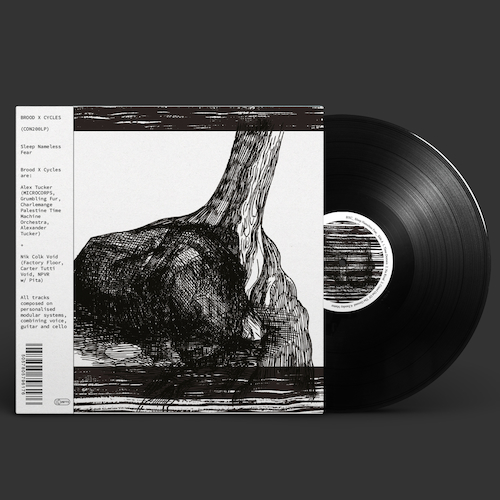 Sleep Nameless Fear
Available Formats
Tracks
Price
Buy
12" Vinyl Album
8 tracks

£

22.00
Description
Brood X Cycles, Nik Colk Void, Alexander Tucker - Sleep Nameless Fear
In the spring of 2019 Void and Tucker convened at Void's Demna Studio to record two days of modular improvisations. Using their individualised modular cases they connected the two configurations to create one whole system where they could integrate and meld sequences, beats, drones and samples. Key to the duo's process was bringing the organic textures of guitar, cello and voice together with machine rhythms, creating a balance between circuitry and the human body. Void says: "Straight away, it was clear that it was going to work out. We were both interested in the combination of voice, with the string tones of cello and guitars. There was some kind of unique sound language going on between us. It didn't matter if we went on to produce a beat-oriented track, or a drone track, it sounded like it was in our world."
The duo edited down the raw recordings into their crucial moments, expanding upon the improvisations into eight cohesive pieces.
Sleep Nameless Fear carves out a world of heavy percussive patterns, monolithic drones, disembodied voices and noise frequency manipulation into one detailed vortex. "It definitely feels like a real melding of our two projects, with Nik's solo work and my MICROCORPS alias" says Tucker. "We'd assemble the building blocks as we were going along, making complex patches circulating between our two setups. We made sure to laminate both our sounds into one whole sound."
Over the course of the album you can hear each artist's half of this tightly intertwined sound, Tucker's skittering sequences and treated cello and Voids' assured pummels, drones and guitar noise. With the combination of their voices processed into spectral transmissions the album hovers between human manipulation and guided machine systems.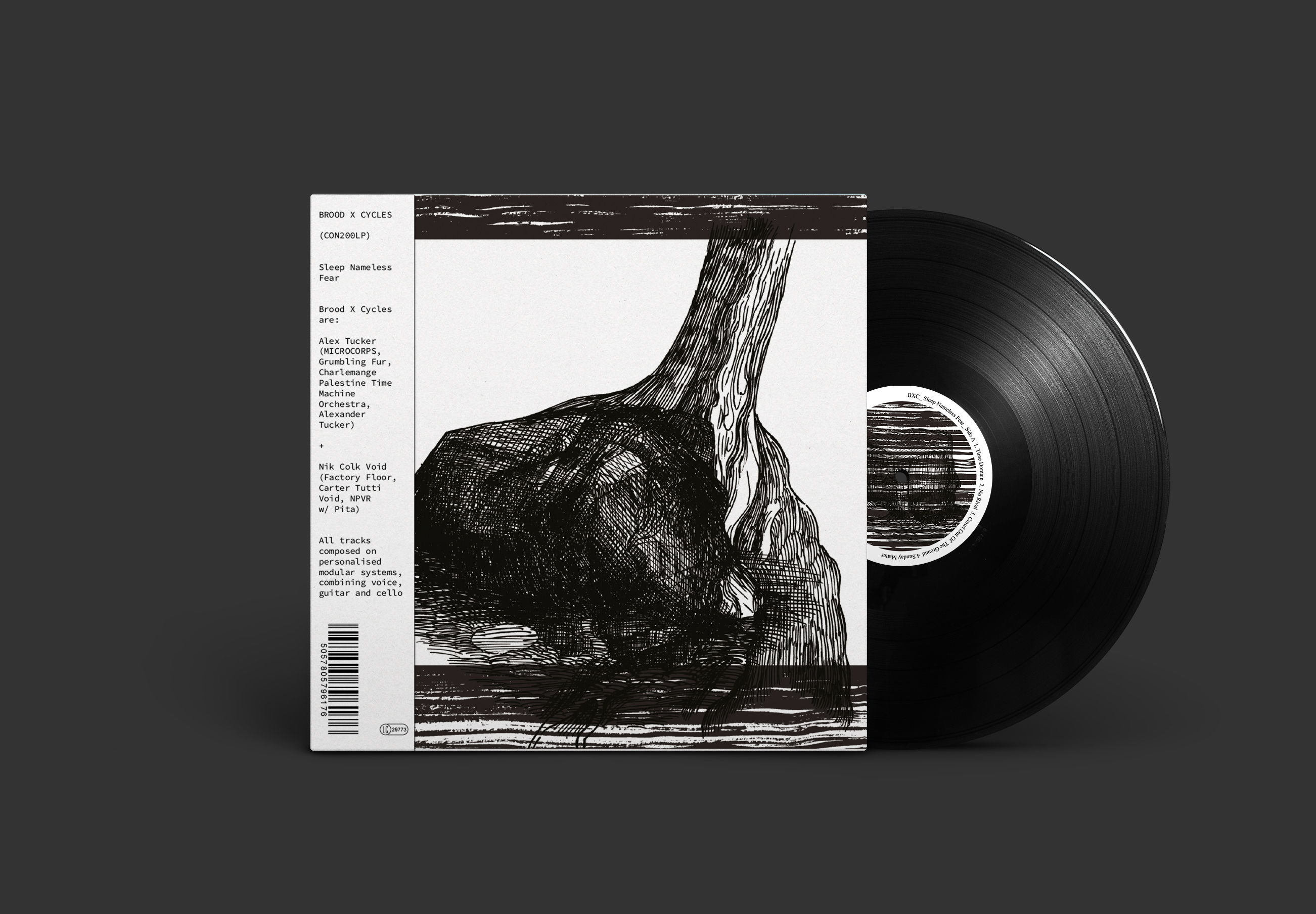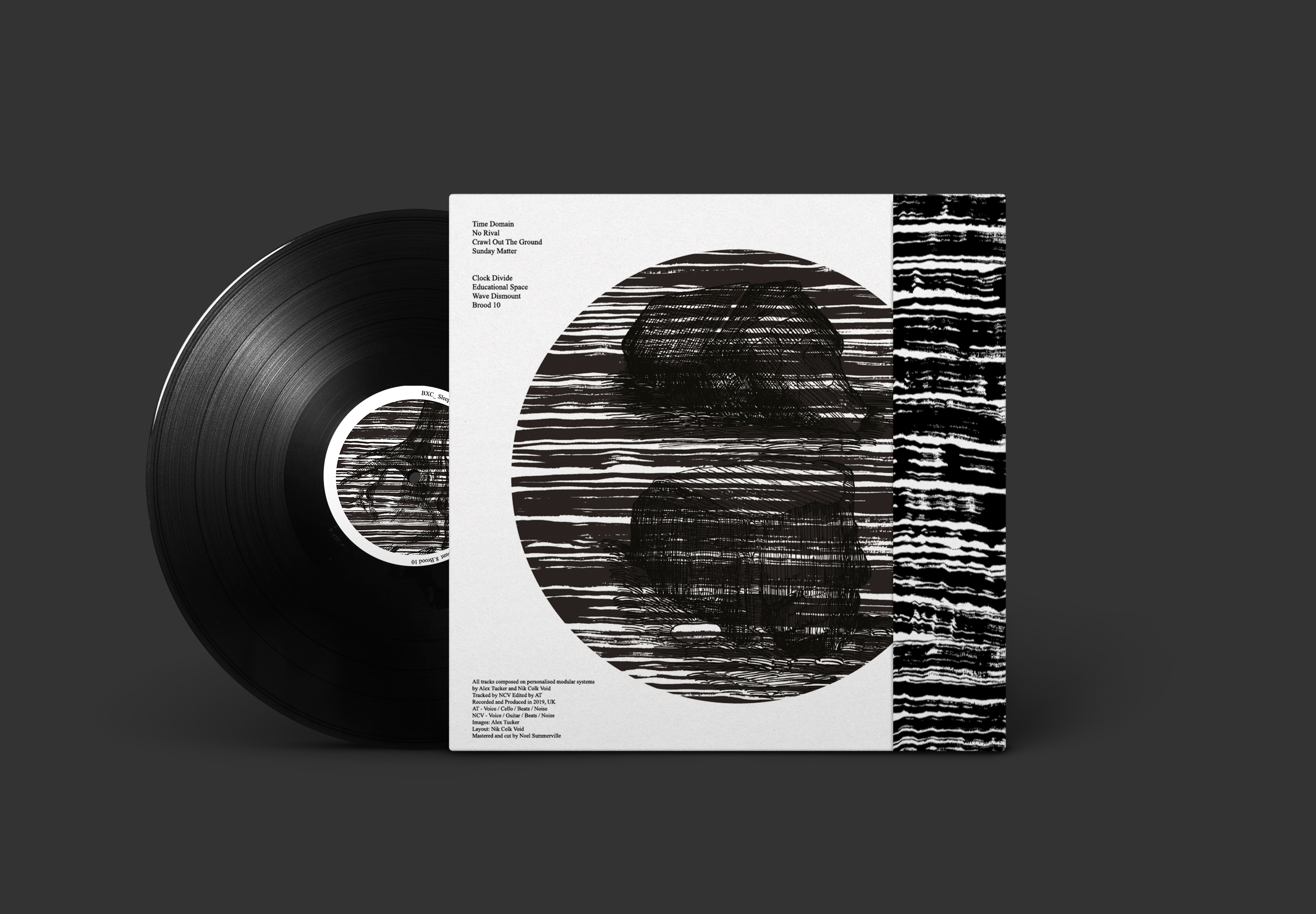 Artwork and design generated by Brood X Cycles.
Reviews
"Listen closely and you can hear each musician's half of that remarkable, tightly intertwined sound – Tucker's hectic skittering and buzzing, Void's assured pummels and drones." - The Quietus
"This eight-track debut is as rugged as it is deep, and while it carries the established hallmarks of the two participating musicians, 'Sleep Nameless Fear' simmers with new working methods and unfamiliar sonics for Brood X Cycles. It dates from a two-day studio session three years ago (then subject to a longer editing process) involving Nik Colk Void – erstwhile Factory Floor member and more recent foil to Cosey Fanni Tutti/Chris Carter, with a fresh volley of praise recent sent her way for debut solo album 'Bucked Up Space' – and Alexander Tucker, similarly restless in his projects, though you might know him as Microcorps or half of Grumbling Fur. Central to this sound, instrumentally speaking, is their respective modular synth setups, pushed together to make one megabrain and embellished with guitar, cello and vocals – though you'd be forgiven for not recognising the post-treatment results as such. Sometimes the duo land on something like proto-techno or the more peculiar fringes of minimal synth ('No Rival'), elsewhere a celestial string drone akin to Tony Conrad or Grumbling Fur's more 'out' moments ('Educational Space'). When it's over, you'll realise the Brood X Cycles project was overdue." - Noel Gardner, Greedmag
Tracklisting
12" Vinyl Album (CON200LP)
Brood X Cycles, Nik Colk Void, Alexander Tucker

- Time Domain

Brood X Cycles, Nik Colk Void, Alexander Tucker

- No Rival

Brood X Cycles, Nik Colk Void, Alexander Tucker

- Crawl

Brood X Cycles, Nik Colk Void, Alexander Tucker

- Sunday Matter

Brood X Cycles, Nik Colk Void, Alexander Tucker

- Clock Divide

Brood X Cycles, Nik Colk Void, Alexander Tucker

- Educational Space

Brood X Cycles, Nik Colk Void, Alexander Tucker

- Wave Dismount

Brood X Cycles, Nik Colk Void, Alexander Tucker

- Brood 10